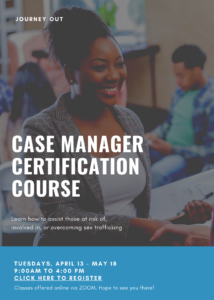 It's caseworker certification time!
April 13 2021— May 18 2021
9AM –4PM
Calling all case workers, lawyers, CSEC/human trafficking victim service providers, emergency first responders, law enforcement personnel and YOU! 
We are committed to educating communities and sharing our expertise on providing trauma-informed, culturally sensitive, victim-centered services, to this population. As a part of that, Journey Out is now offering its intensive 40-hour certification training VIRTUALLY via Zoom. This training is in accordance with California Evidence Code 1038.2. It is conducted by Journey Out staff along with guest facilitators from partner agencies in the city who support survivors.
Curriculum includes, but is not limited to these topics:
History & Societal Attitudes toward human trafficking
Privileged Communication
Evidence Code 1038.2 & Legislation
Peer Counseling
Resources (housing, public assistance, financial resources, etc.) for Trafficking Survivors