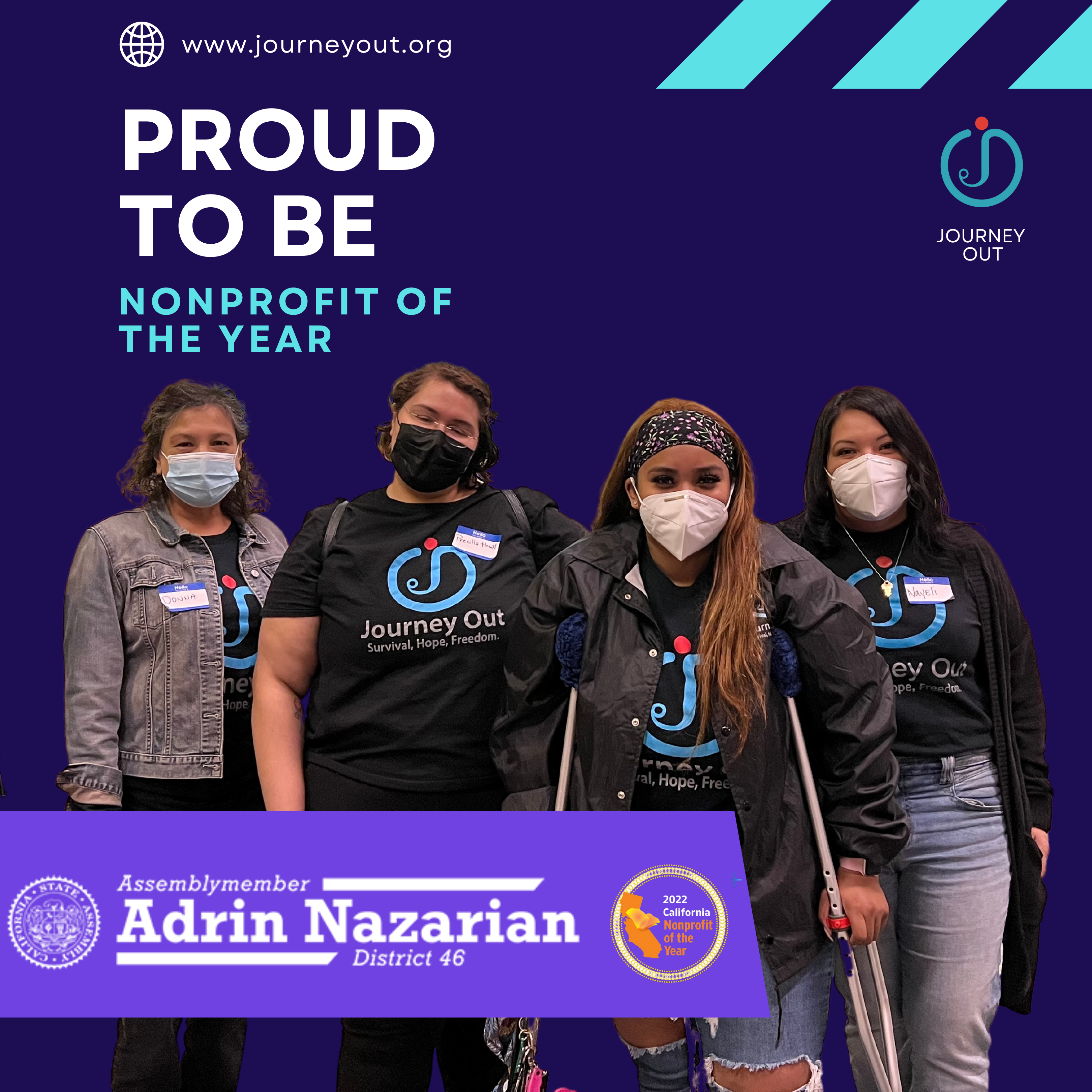 Tuesday, May 31, 2022
Contact: Mary David, Esq.
Director of Communications
[email protected] (818) 988 – 4970
FOR IMMEDIATE RELEASE
JOURNEY OUT CHOSEN AS A 2022 NONPROFIT OF THE YEAR BY ASSEMBLYMEMBER ADRIN NAZARIAN
Van Nuys, California – Journey Out is proud to announce it has been selected as a 2022 California Nonprofit of the Year by Assemblymember Adrin Nazarian.
Journey Out is one of the nonprofits that will be honored by their state senators and assemblymembers for their outstanding contributions to the communities they serve.
Journey Out provides direct services that help victims of commercial sexual exploitation and sex trafficking leave a life of abuse and violence, overcome their fears, and empower them to reach their full potential and goals. Programming includes clinical counseling, law enforcement crisis response, emergency housing, survivor empowerment groups, job training, survivor mentorship, and court-approved diversion programming. As a result of engaging in our services, about 60% of clients report leaving the Life of commercial sexual exploitation.
"Our dedicated staff at Journey Out walk alongside our clients that are courageously rebuilding their lives from the inside out, and we are deeply humbled to be recognized by Assemblymember Adrin Nazarian as a 2022 Nonprofit of the Year," said Nayeli May, Executive Director at Journey Out.
"Nonprofit organizations play such a critical role in our communities, and the last two years of the pandemic have only served to highlight that." noted Jan Masaoka, CEO of the California Association of Nonprofits (CalNonprofits), which serves as a partner for this awards program. "California Nonprofit of the Year gives elected officials the opportunity to shine a light on the important work nonprofits are doing in their districts and for everyone to appreciate the collective impact of nonprofits in our communities."