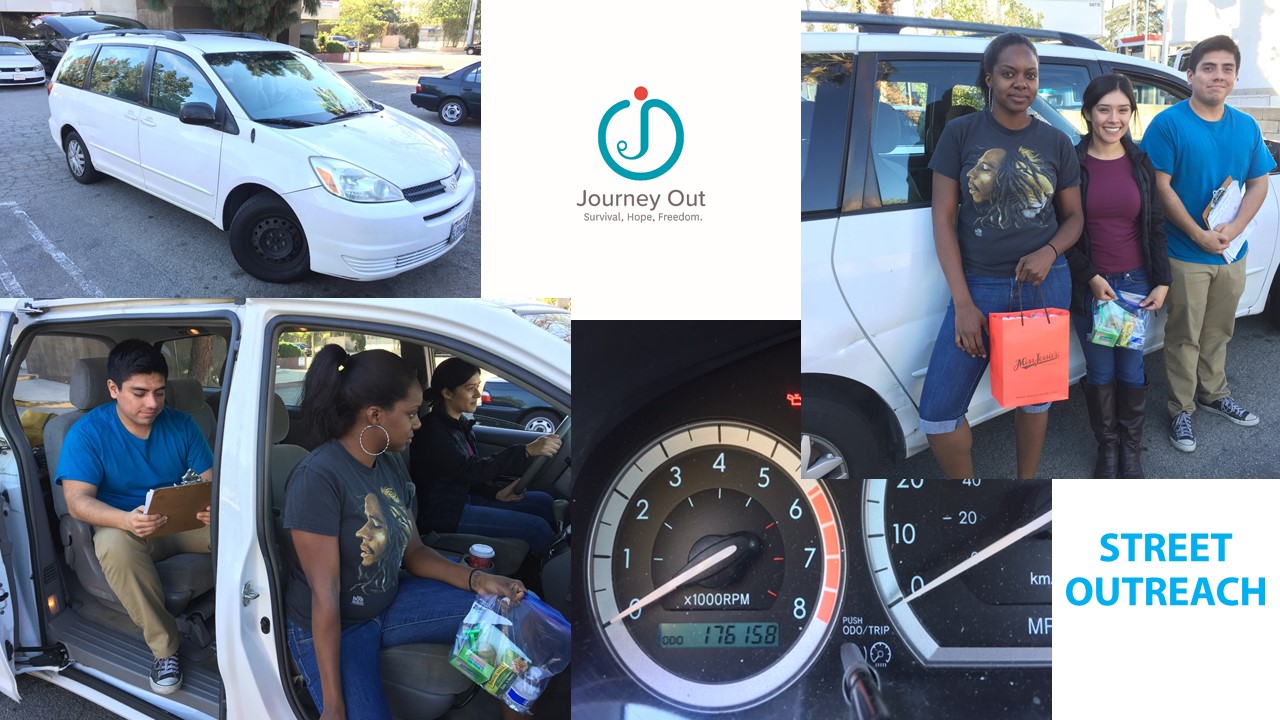 A core part of Journey Out's programming that allows us to carry out our mission of "helping victims of commercial sexual exploitation and sex trafficking leave a life of abuse and violence, overcome their fears, and empower them to reach their full potential and achieve their goals", is our Street Outreach operations; where staff and volunteers drive prostitution tracks throughout Los Angeles County and hand out information about services available to victims, as well as information on emergency shelters both within California and outside of California, and more. It is the first step in the process of literally "meeting our clients where they are at".
We also utilize our Outreach vehicle to provide our crisis response and emergency services, where we respond to distress calls, and other requests for emergency transport. We go out into communities to safely retrieve clients and assist them in getting into permanent transitional housing, safely away from their traffickers.
However, after serving us well for many years, our current vehicle is unreliable, and we have had to reduce our Outreach efforts due to our concerns of it potentially breaking down, and endangering or leaving our staff and volunteers in vulnerable positions. As a result our Street Outreach program has been drastically impacted. We have had a marked decrease (56%) from 2015.
We are asking for your support whether by DONATION or SHARING, to help us ramp back up our Street Outreach efforts.
This is the link to the campaign: https://www.razoo.com/us/story/JourneyOutLA
Any support or contribution would be greatly appreciate! Even if you can't donate anything, then sharing this cause with your friends and family will make a positive impact as well! Be the catalyst for HOPE!
Thank you so much!