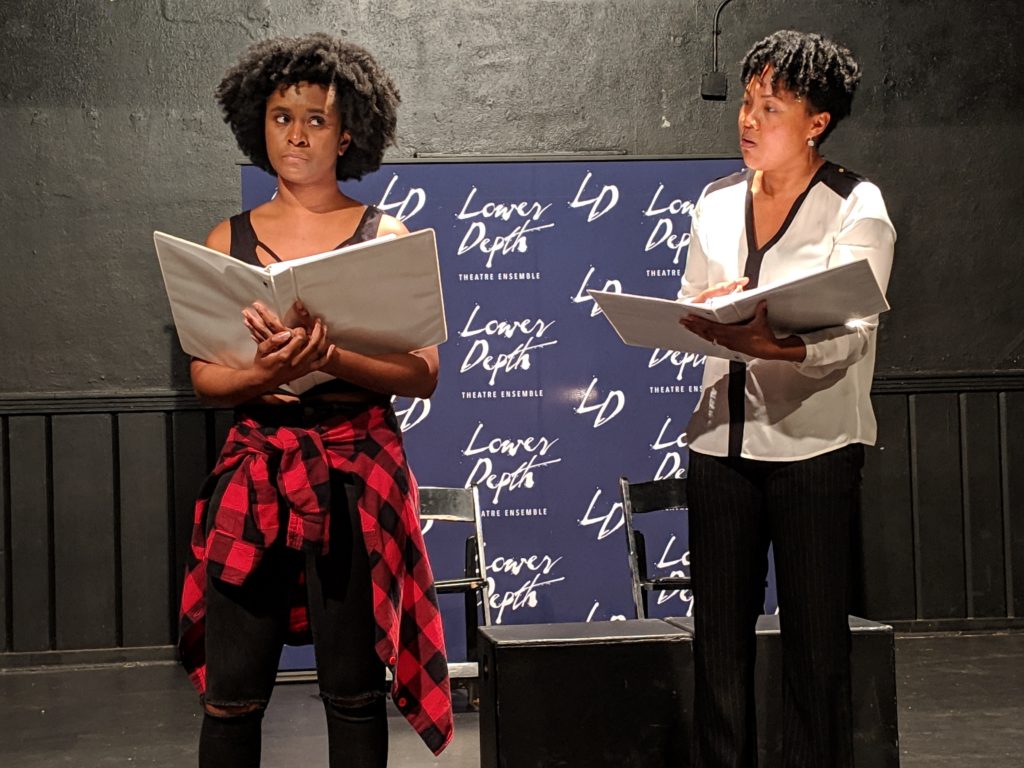 Lower Depth Theatre Ensemble is changing hearts and minds about sex trafficking, one show at a time
Art at its best is not something we observe – it is something we experience. The creatives at Lower Depth Theatre Ensemble know this, live this, and impart this daily.  A collective of artists driven by the desire to unearth stories of  injustice and humanity, they launched a series called Cycle of Violence in 2017. Committed to highlighting marginalized voices, the ensemble has commissioned a play that highlights sex trafficking of American youth.  The play, Safe Harbor, runs from November 8 – December 15, 2019 at the Zephyr Theatre. It is the brainchild of Tira Palmquist and explores how young people get caught up in the world of sex trafficking. We had a chance to speak with Lower Depth Managing Director Courtney Oliphant and Artistic Director Gregg T. Daniel about the series, its importance, and the social drivers that fuel their artistry.
What is the Cycle of Violence commissioned series, and what prompted you to create it?
The commission series was created by the four founding members of Lower Depth Theater Ensemble. Each of us chose a topic which caused us concern and discovered when we shared our ideas the common thread was violence. Violence reverberated around each subject in a way which was profoundly disturbing yet undeniable. Our thought was to take a larger examination of how violence manifests itself in our world, along with its impact. The advantages of commissioning a play is our company gains the opportunity to address topics we deem vital to our lives and the communities we live in as they are happening.
You are committed to sharing stories through the lens of artists of color. Why is that important?
Our company was founded with a mission to explore stories that involve individuals of the African diaspora. We specifically wanted to look globally at stories, societies and cultures which arose from the spreading of African people around the world. Regrettably, the marginalization and undervaluing of people of color and their stories is an ongoing struggle.
Lower Depth is described as "a social change activator through the art of theatre." What inspired you to use art as a form of activism?
All those involved with the creation of Lower Depth Theatre Ensemble have been involved with theatre & the live stage for decades. Many of us hold degrees in acting, directing, theatre management, etc. We've seen up close how theatre is unique in the way it can touch people's hearts. Theatre artists have always been able to use the power of words and storytelling in demonstrating to a society its truths, deceptions, values, betrayals and ultimately its humanity. We are living in a highly charged era, things are occurring politically, scientifically, economically, etc. which challenge the conception of who we are as human beings. We believe theater should reflect & represent the narratives which occur as a result of these tumultuous times.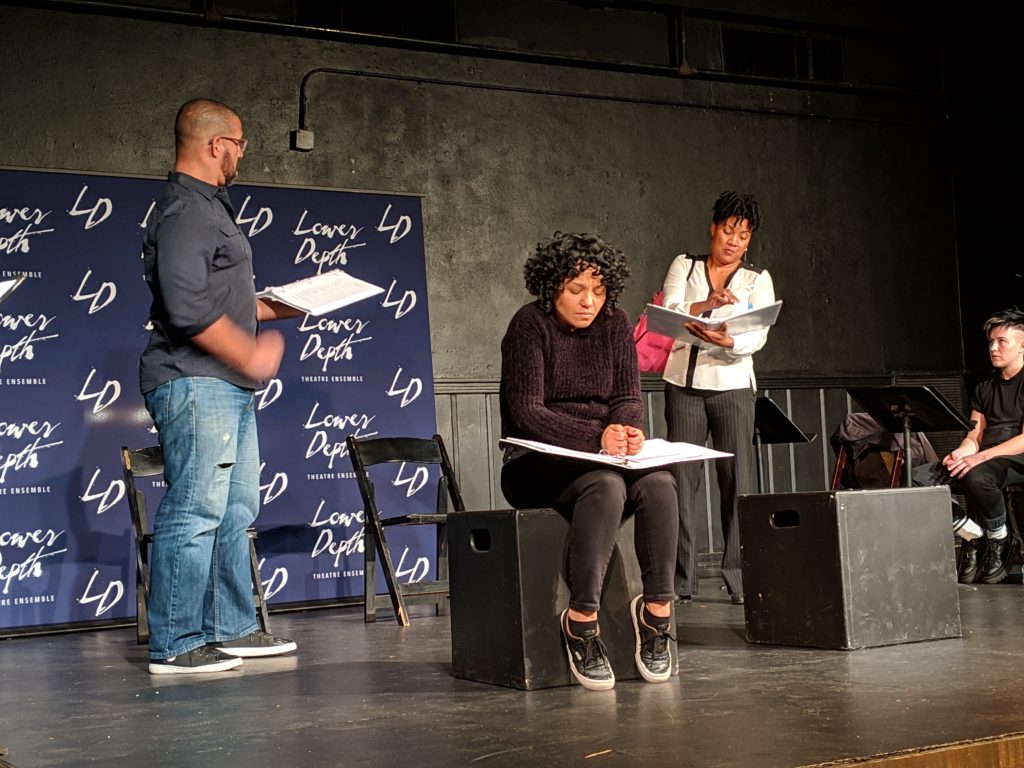 The play Safe Harbor explores sex trafficking from multiple vantage points – through the perspective of victims, service providers and law enforcement. What led you to showcase all three instead of zeroing in on one? How does that affect the message and impact?
One of the greatest ways to encourage empathy and cultivate understanding is through the power of perspective. The issue of sex trafficking can seem so distant; something that happens to other people from other worlds. The sad reality is that is simply not true; a victim can be anyone's child. By exploring this complex issue from a multitude of perspectives, we can give our audiences several different avenues of connection, and hopefully, through doing so they, in turn, can expand their own understanding and overcome any prejudices or assumptions they came in with. Sex trafficking as an issue is so complex and multifaceted that in order to accurately and effectively tackle it in a 90 minute play, it's crucial to include the perspectives of all the groups involved- pimps, victims, survivors, law enforcement, service providers, and the family of victims. We hope that by the end of the play audiences will see a girl on a street corner differently, understand why someone would go back to "the life" after getting out, or feel a renewed sense of urgency if they're already familiar with trafficking. All of these things help bring an issue that is normally shrouded in darkness into the light.
In covering the issue of sex trafficking, were there any special considerations that you had to take into account in production or the artistic process? Was preparing for this undertaking similar to or different from any other project that you have covered?
The biggest consideration that we took from the very beginning, was our commitment to the truth and accuracy of sex trafficking in Los Angeles. Storytellers of both film and theatre have a responsibility to accurately portray this issue because it's too easy to distort reality and mislead audiences. That kind of lazy storytelling can perpetuate the common misconceptions about an issue, which is dangerous and irresponsible.
Tira Palmquist (writer, Safe Harbor), is a social activist in her own right, and brilliantly sews together her stories with the threads of hundreds of hours of research. She was the perfect person for this project because, in addition to being heavily fact-based, all of her plays have a strong heartbeat and leave audiences feeling empowered and connected to the issues she writes about. Safe Harbor was no different. The initial source material for the play was a documentary called, I Am Jane Doe, and from there, Tira interviewed law enforcement, spoke with victims, and met with the National Center for Missing and Exploited Children. These conversations informed her own perspective on sex trafficking and gave her creative access to the many voices that you now hear in the play.
We are now in the final stages of development of the play and will be producing it in Nov/Dec of this year. Unlike our previous projects, we have already begun to cultivate partnerships with other organizations in Los Angeles (like Journey Out!) who are on the ground tackling sex trafficking and providing services and hope to victims. We hope that through these relationships, we can offer our audiences not just a window into "the life", but give them a roadmap of how THEY can become advocates and take action within their communities.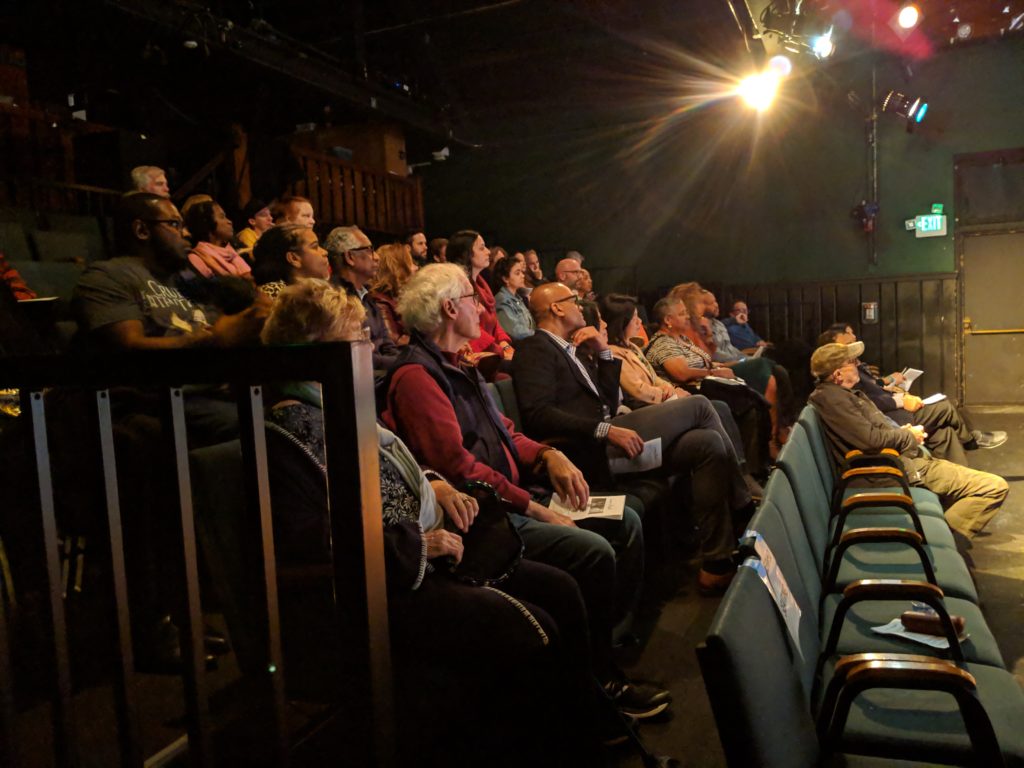 What do you hope audiences will get out of your plays, and out of Safe Harbor specifically?
Each audience member will take away from the production something unique to their own experience & thinking. However, the ability to inspire empathy in individuals and guide them in growing a deeper awareness regarding a heretofore unacknowledged issue is a powerful result. Creating an awareness about young girls & women who are trafficked and understanding the complexity of the issue (especially if it moves people to activism) is a worthy goal.